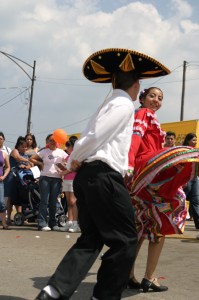 "Fiesta del Sol keeps it hot, hot, hot"
By Benjamin Ortiz, Special to the Chicago Tribune
Section: A&E
Date: August 1, 2011

All hands reach to the sun, navigating and conjuring beats while soul-diva samples rage that the crowd is "in my house."
But when the sound system momentarily browns out from blown speakers or overtaxed generators, crestfallen dancers drop their body-rocking and noise bleeds in from down the block. Carnival barkers' shouts and Tilt-A-Whirl screams fuse with bachata and banda music, cutting through echoes of hot brass beefing up ranchera rhythms. The mix palpates humid air redolent of roasted corn and tacos.
The 39th annual Fiesta del Sol has blown up way past its block-party origins; it's now billed as the Midwest's largest Latino festival, boasting three music stages and an array of family events. The festivities extend along a stretch of Cermak Road from Morgan Street to Ashland Avenue, making the area resonate with rock-en-Espanol, polka, cumbia Colombiana, reggaeton and amplified exhortations cataloging every state in Mexico.
And the beats continued Saturday, as the House of Sol stage, just under the shadow of a Ferris wheel, got back on track with a lineup that included such locals as DJ Heather, Gene Hunt and classic house-music deity Marshall Jefferson, cresting a four-day schedule that had a multicultural, all-ages gathering of beat fiends sweating through sundown and hyping a sample that urges everyone to "keep on pushin'!"
Even if that part of the fest didn't feel like a Mexican-themed event bred in Pilsen, at the other end of the spectrum and street, on the main stage, was El Guacho, whose motley personnel mainly sport camouflage and mohawks. The lone exception was a mustachioed vocalist in typical vaquero gear who egged on his compadres as they played tri-color, three-row button accordions and tweaked another bouncing mate who was blowing on a sousaphone to frenzied marching-band effect.
Meanwhile, dance leaders tightly packed into the full crowd managed to piece out homespun quebraditas and launch their grinning partners to the heavens.
Sunday's schedule listed more Mexican regional acts, Latin alt-rock, tropical sonidero party-mix jockeys and conchero ballet, in addition to more House of Sol, now in its fifth year of weaving clubby sounds into the diverse texture of modern Chi-Town Mexicanismo.

« Journalism Speaker Series (FALL 2010) Truman Journalism Program Info »